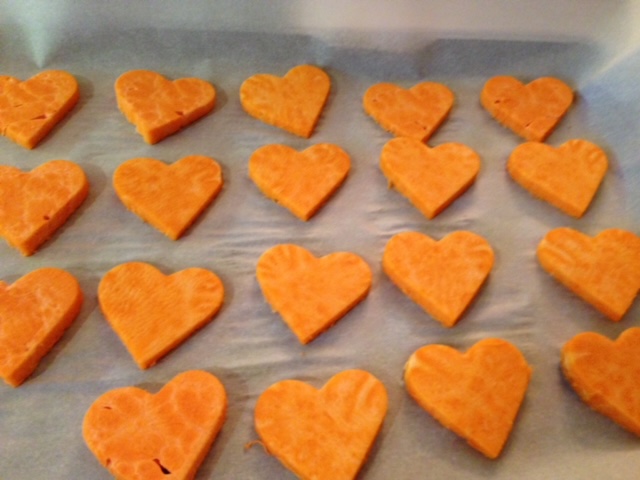 When I had my both my kids I wanted to make their food and not have to buy the jars of the premade stuff. To be honest, I did half and half, as it was hard to plan meals for my husband and I as well as what to serve my first born. Once our daughter arrived then it became a little easier as I would modify our meals to suit her from 6 months on. I got creative and really wanted to expand the flavors both kids were getting as well as make sure I was feeding them a good balance of fruits, vegetables, meats, beans, and grains. I wanted to make sure their diet was natural as possible and not have to use any kind of sweeteners except natural options like a yam. They loved when I would use my cookie cutters to cut out both vegetables and fruits. Kids like it when it is fun and when their foods have flavor and texture.Here are some ideas that worked for me.
Ratatouille: I would make this for my husband and I and then add a roasted yam to sweetened it and then puree it. When they were baby's, I would keep it pretty bland and puree it to a consistency fit for them but as they got older I would use it as pasta sauce or I would mix it in with ground meat. They loved it.
Roasting vegetables always brings out the natural sugars so I would usually roast vegetables or steam them and then puree. Yams were always my means to sweeten the savory meals I would make.
Avocado was another vegetable I would give them a lot. Sometimes if I had one that was really ripe I would use that and puree it with yogurt and fruits for a smoothie or mix it with hummus for added protein and they loved dipping vegetables in it.
They loved watermelon, cantaloupe and papaya when I used a melon baller. I loved the little balls as they called it. I would give them a few melon balls with small mozzarella balls.
Finger foods are key as you want them to improve their dexterity. There are so many more options available now, but if you can plan ahead it is easy to feed your children. My vitamix is the best. Now my kids use it to make Smoothies.
Pasta is another food my kids loved-all kinds from ravioli to tortellini as well as spaghetti. I always served it with homemade tomato sauce or my ratatouille concoction.
I also would make pesto for them with basil from my garden. I kept the garlic to very little and added lemon zest and a bit more cheese and toasted pine nuts. My daughter took to it more than my son but now they both love pesto.
Sometimes my kids would spit out what I served but I never got frustrated I would just reinvent it and reintroduce it. They both are good eaters and will eat pretty much anything.
Patience is key and so is reinventing the food so they don't think they have had it before. I also am a fan of hiding vegetables in foods they would never think.