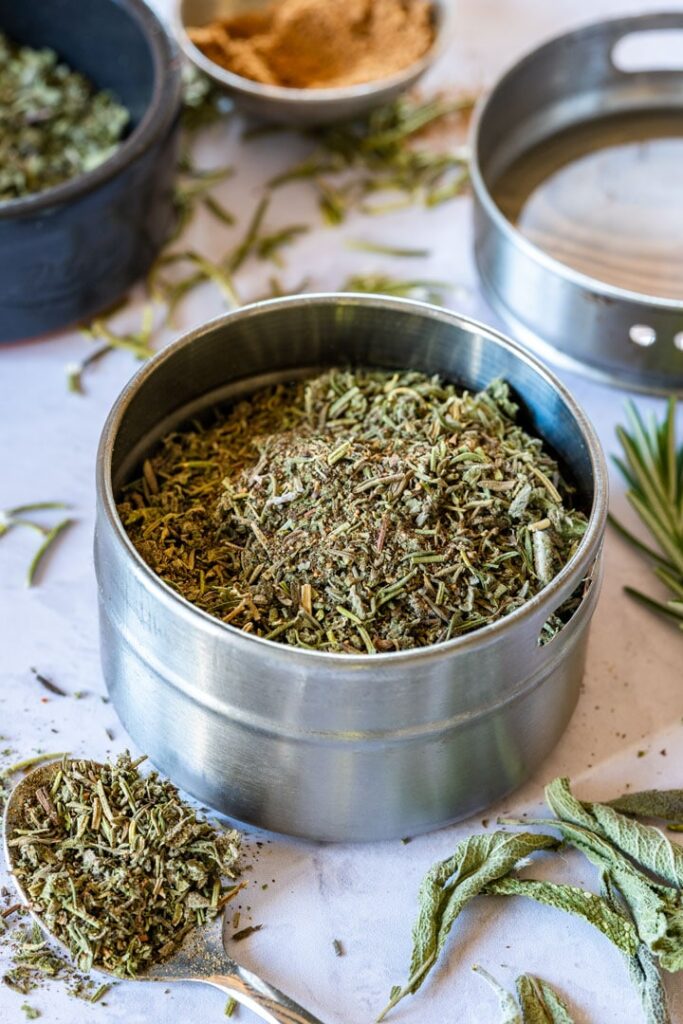 When I lived in Boston, Wyoming and London, I did not have access to fresh herbs in a garden so I would have to buy them in the market's. Dried herbs work great, but a little goes a long way. I do stock the same dried herbs as I have fresh because in a recipe it can give a slightly different kick. Fresh herbs are a bit more subtle but the freshness adds so much flavor. fresh herbs are best when added towards the end and dried herbs are best added at the beginning.
Dried herbs are also excellent when making dried rubs for meat or making some sauces. If you are making a compound butter, it is little easier when using dried herbs. I would say the one dried herb I use the most would probably be oregano. I have two varieties: Greek and Mexican. I use them in different recipes but both hold a place in my spice rack. I do enjoy spice blends: Greek blend, Italian blend, French thyme and shallots, world herb mix and more. Between The Spice House and Penzey's I am fully stocked and always have dried spices as well as dried spice blends to enhance a recipe.
Some favorites are:
Penzey's Roasted Garlic- my go to
Herbs de Provence- my other go to
Oregano: Mexican and Greek
Thyme
Roasemary
Bay Leaves (better to use dried rather than fresh)
Lemongrass
Italian Blend
Tuscan Sunset
Greek Seasoning
Sunny Paris
Mural of Flavors
Fine Herbs
I love these dried herbs and blends as they save time on busy nights when cooking and I forgot to marinate or want to give flavor to vegetables or grains that I am roasting or sautéing. Most of these can be added to mayonnaise or sour cream to create a dip or sandwich spread, do this ahead of time so flavors can blend. Best to do the day before. If you like add a teaspoon to oil and allow it to marinate over night so to use to flavor a finished dish or to drizzle on a protein that is on the grill, stove or oven. These also can add flavor to a vinaigrette that you are making.
Dried herbs are great but remember to store them in a dark, cool place so to keep them "fresh" longer. Make sure to close the lid tightly so no air comes in. I buy herbs and date them so I know when they should be tossed out.
Play around and get creative. There are so many options to create dishes with great flavor with no chopping or fresh herb prep. Create a favorite flavored oil or a favorite dip. Make a rub that will be used to give flavor to your favorite protein. Give vegetables or potatoes added flavor with a little oil and a dash of a favorite dried herb blend. You can't go wrong.