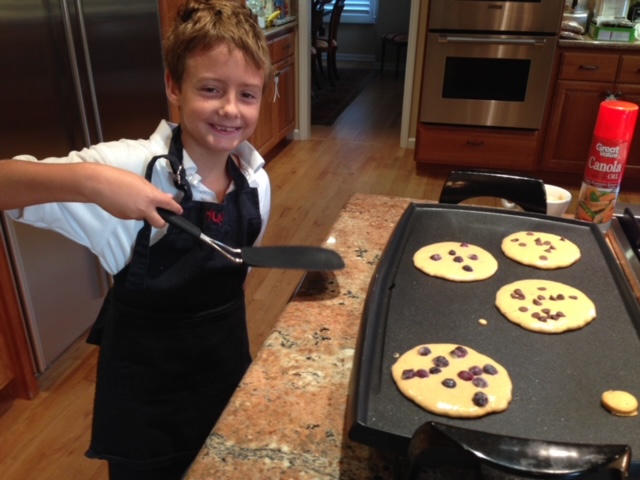 In my previous life, I was a teacher. I taught first grade and fourth grade. I loved it. I always had a cooking component in the classroom. My student's loved it. I found kids love to be involved in the process as well as in the cooking. When I had my own children, I always let them have a say in what we were having for a meal. When they were young, I would let them choose Sunday breakfast which we always eat as a family. I would give them 3 or 4 choices and they loved selecting. As my kids got older they would either look for ideas online or in my hundreds of cookbooks or they would take cooking classes. My son is quite the good cook and has learned from his dad to be quite accomplished with the grill. My daughter is very good at finding recipes and delegating to me that, I must make these for her! But she is pretty good at cooking and creating her own specialties. I try to teach them but I want the process to be theirs and I want them to choose their ingredients as well as executing the recipe. I love my cookbooks, but most of my cooking comes organically. I just have an idea and I know what to do with what I have or what I am inspired by.
Some favorite ideas for getting kids involved in the kitchen from a young age on are:
Toddler to preschool: Slice up apples and give them a plastic knife with various dips such as peanut butter, honey, yogurt, or what ever you enjoy. Let them practice smoothing the peanut butter on the apple or even a piece of toast with jam. These are good skills, plus great for their coordination. I also would have my kids help make sandwiches and quesadillas. I would lay out all the ingredients and they were able to put it together.
Kindergarten to third grade: Make your own calzones is such a fun project. Have the dough ready for them to roll out, then have all your ingredients in bowls so then can easily "stuff" the calzone then assist them encasing the stuffing in dough. I also would have them help me make meatballs as they love to roll the meatball. I would have them grate the cheese on the pasta. My some from 6 years on, loved to flip pancakes. I would make the batter and he would stand on a chair next to me and be my flipper.
Fourth Grade-on: My kids love eggs so they would get creative with eggs, cheese, avocado and tortillas or toast. They learned to make scrambled eggs early on , but once they mastered a fried egg then they would add cheese and a tortilla. They also learned that quesadillas made on the stove are much better than those made in the microwave. My son would heat a tortilla and then add cheese and a fried egg. Now he is 16 so he will make hash browns and a full breakfast. If I have made bacon, he will create a scramble for he and his sister with eggs, cheese, tortilla, avocado and salsa.
My husband started teaching our son to grill during lock down. We grill at least twice a week and usually my son is right there learning from the best. My husband grills food to perfection. He just has an innate ability to cook food to the right temperature and that goes for fish, meat and vegetables as well as with our pizza oven. Our son is going to be as good as his dad.
So many options teaching kids from a young age how to cook in the kitchen. Start off slowly and give them tasks that make them feel they are accomplishing something to help you. Plastic knives are great way to teach them to spread and cut. Making sandwiches, quesadillas, flipping pancakes, making calzones, grating cheese, making fruit kabobs, making homemade lemonade or OJ (having them squeeze the fruit), and helping make smoothies are all great ways to get them involved and great ways to have them help make healthy choices.
A couple excellent resources: American Girl cookbooks and American Test Kitchen Children's cookbook. The recipes are all totally made for kids without being what kids want to eat. They have great recipes that even adults want to eat. Both my kids liked those cookbooks and would sometimes select the meal for the next day. Now they help me put together holiday meals or weekly dinners. They are good eaters and quite adventurous. It's all in the training and what you expose them too.
Happy Cooking and Happy Eating and sharing ideas with your kids from every age.