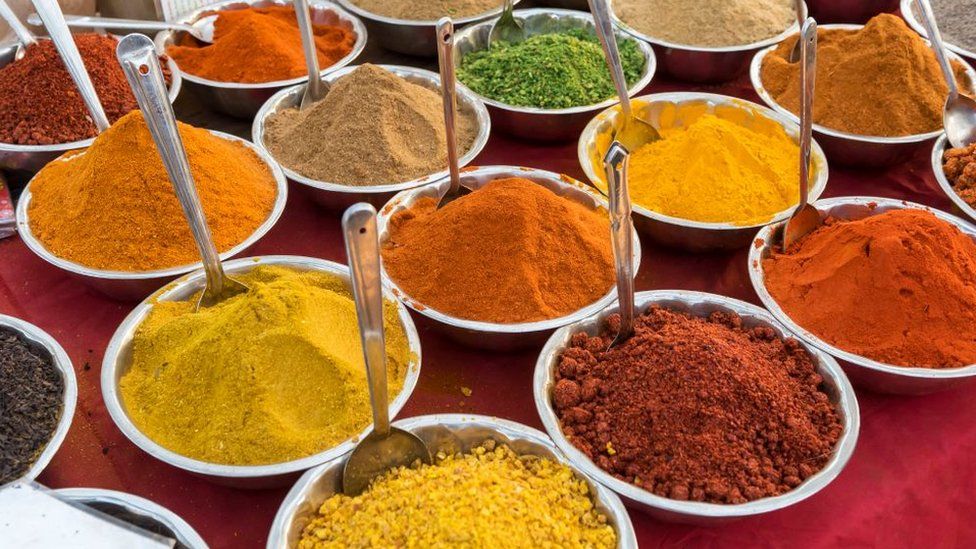 I love meals with great flavor and I enjoy all kinds of food. My parents were not adventurous eaters. When we went out, it was either pizza, Italian food and Chinese food. My grandmother loved to eat all kinds of fish and Asian food so when I was with her, we would enjoy lots of Asian food. Binky, would also cook with ginger (fresh and pickled) so I grew up loving ginger in all forms: fresh, ground and pickled. One of her claim to fames was her lamb curry. It was old school and wonderful and she would serve it with all the accoutrements. It was always a beautiful presentation and so much great food with so many different flavors and textures. It was such a blend of spicy, savory, and sweet. There was the smooth curry contrasted by the cashew nuts, mint and cilantro, and mango chutney. I loved that dish. It might have been the dish that opened Pandoras box in the sense that from thereI would try and eat almost anything.
When people ask what are my favorite spices for my kitchen, it usually a blend of spices that are more international. I lived in London twice and grew up going and spending time in Scotland. I love Haggis! It seriously is one of my favorite meals. I fell in love with Indian food while living in London as well as all kinds of Middle Eastern food. So my spice collection tends to lean heavy on a more worldly collection.
Ground Cumin and cumin seed
Curry powders from around the world: Burmese , Maharajah, Kashmiri, Vindaloo, Madras, Garam Masala, Vadouvan
Tandoori
Turmeric, ground and fresh
Za'tar
Ras El Hanout
Sumac
Shawarma
Harissa
Ginger, ground, fresh, and crystallized
Cinnamon, Vietnamese, Ceylon, and Indonesia
Coriander (Cilantro) seed and ground
Cardamon seed and ground
Fenugreek seed, ground
Penzeys Now Curry
Smoked Spanish Paprika
This is a list of my favorite spices. Some these you can't find in a normal grocery store or even a specialty store. I have a few websites I like to buy good quality herbs and spices: The Spice House, Oaktown Spice Shop, and Penzeys.
All these spices can be used with a little olive oil and turned into a rub or marinade for meats/fish/vegetables. You can even make dips with some of these spices. Also some of these go nicely with eggs, like the shawarma.