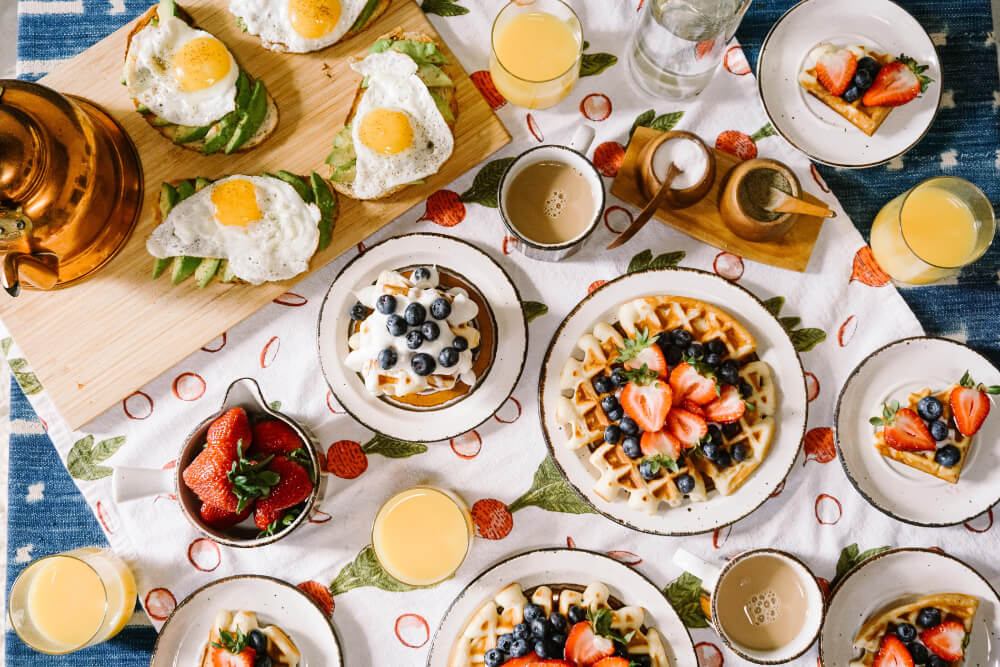 I am a big fan of brunch. Having spent many years in the north east, it is a thing as they say. My friends and I would meet every Sunday for brunch. It was always the highlight to my week. Such a fun way to reconnect and catch up after a long work week. I love to host brunches at my home as it is something fun and different than a dinner party. We have had friends over for a "Bacon Tasting", very important research.
Before children, my husband and I would have Waffle Sundays. We would lounge around, make a big pot of coffee, a fruit salad and eat waffles, hot out of the waffle machine. We would read the paper and discuss plans for the day. We still do this but sadly not as frequently because children's schedules get in the way.
Some favorite brunch specialties that I make for family and friends are:
Eggs: Poached/Scrambles/Fried, Shakshuka, Frittatas, omelettes and and Quiche
Homemade Waffles and Pancakes : all flavors
French Toast with brioche bread or raisin cinnamon bread
Muffins/scones of all kinds
Fruit salads with what is fresh and in season or just sliced cantaloupe, pineapple, and watermelon
Coffee cake. My grandmother made the best blueberry coffee cake. We would eat it before going fly fishing in the summer.
Cocktails: Bloody Mary's, Mimosas, Bellinis or Kir Royal's
Meats: Bacon, Sausage, Chicken Apple Sausage
Have fun and I like to offer lots of options when hosting a brunch. I'll always offer fresh made muffins, scones or coffee cake with egg dishes as well as with pancakes or waffles. Fruit salad is always on the table. Hot coffee is always available as well as hot water to make hot tea.
It is a great way to celebrate the day, celebrate friendship and just sit, back and relax with friends and family. You can make it light and healthy or warming and comforting. You can't go wrong. It is the best way to start if you are ambivalent about hosting a dinner party.