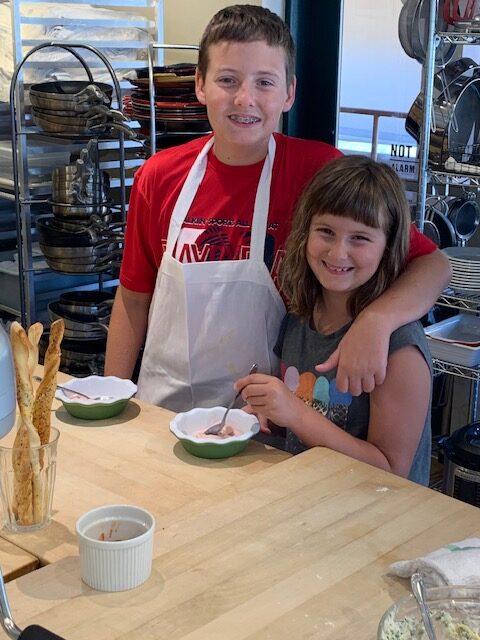 My kids both showed an interest in cooking from a young age, but I would say my son is more into it than my daughter. He is now 16 and enjoys making breakfast and grilling. He is a good listener when it comes to things he is interested in and is quite the good chef. His clean up could be better!!!
He loves to make himself a hot breakfast either a quesadilla with an egg and some cheese or a bagel breakfast sandwich with an egg, cheese and either bacon or prosciutto.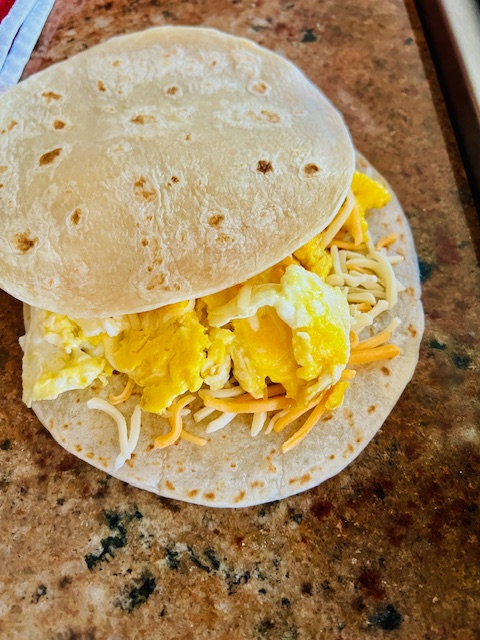 He get's pretty creative with what we have in the refrigerator. He will warm tortillas in a pan with a little butter, add cheese, scrambled eggs, black beans or leftover vegetables. If we have leftover rice, he will crack eggs in a hot pan and scramble the rice into the eggs, his own version of fried rice. This may sound basic but it is just a place to begin and build on. He isn't much for baking but good at suggesting ideas for me to bake, but I love the time he puts into meal prep and the creativity that goes along with it.
I try to discuss nutrition and eating a balanced diet. I want them to enjoy eating but also understand how to be a healthy eater. They are kids so they love donuts, ice cream, cookies, cakes, and candy. They love to snack. I try to guide them. I grew up where donuts were forbidden and we had to hide our Halloween candy. I don't believe this does any good. I want them to be able to enjoy the sweets but they understand they have to eat healthy as well. I am lucky that they both enjoy vegetables and fruits. My daughter loves to make fruit salads on Sunday mornings when we all sit down and enjoy a family breakfast together. I'll make pancakes, waffles, Dutch Baby, or a frittata and my daughter is wonderful at making a pretty salad in a decorative bowl. She also loves to makes smoothies. I must say she does a pretty good job and she too get's creative with her ingredients. Some of her favorite ingredients are:
Greek yogurt-vanilla honey
Raw honey for a touch of sweet
Berries of all kinds
Melon
Pineapple
Mango
Avocado
Bananas
Unsweetened vanilla almond milk
Ice
We have a Vitamix which makes making smoothies or soups or sauces so easy. To be honest, I am not a smoothie fan (goes back to being pregnant) but Isla's smoothies are good and somehow she always has a good balance of flavored texture without making them overly sweet.
Start Small when cooking with kiddos and then as they take to it, you can expose them to more challenges in the kitchen. When my kids were smaller, I would go to the grocery store and have them pick out the vegetable we would be eating. It seemed to make them less picky. We would always taste it raw and then cooked just to educate their palates as well as show them how different some vegetables taste, raw vs cooked. Even with fruit, raw apple vs baked apples, peaches, plums taste wonderfully raw and when grilled and even pineapple is amazing both raw and grilled. It's important for children to discover flavors and tastes.