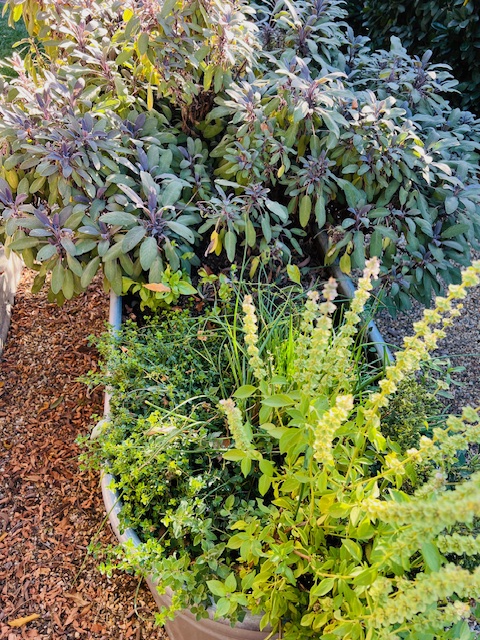 This is a picture of my herb garden. We keep it going year round. It is always good and cheaper to have access to fresh herbs. We also have a California Bay tree and lots of Rosemary bushes growing in our garden.
My favorite herbs to grow:
All varieties of basil
All varieties thyme
Oregano
Sage
Mint
Chives
Taragon
Italian parsley
Cilantro
Fresh herbs add so much flavor to a dish or to a marinade. When I have meat/chicken/fish, my go to is a few snips of fresh herbs, some citrus, garlic, salt and fresh ground pepper.Keeping it simple so that everything enhances the flavor rather than over powering it.
I love the different varieties of basil. I love the Italian basil for pesto's, pastas and pizzas. I love Thai basil for when making Thai and Indian dishes. It has a slight peppery taste and adds so much to different curries and soups.
I love mint for both savory and sweet dishes. Mint is wonderful with vegetables as well as stuffing with other herbs in the carcass of chicken or whole fish. It adds a nice flavor profile. Mint for sweet is a wonderful garnish for fruit salads, berry shortcakes, and any citrus dessert. It adds color and just a hint of dimension.
I love cilantro and use it all the time in stir fry's, curries, salsa verde's, and more. I know some people don't enjoy it but I love it.
Italian parsley is another one that I seem to use all the time. It seems to go with most savory dishes and is so healthy for you as well. Pistou's are the French version of pesto but a little lighter. They can be made more paste like or more like a vinaigrette. It is a wonderful accompaniment to soups or roasts.
When I have an abundance of fresh herbs, I like to make my out version of a herb sauce. I like it best as it is so much lighter than a pesto or a pistou.
I simply pick whatever I have on hand:
Basil, thyme, sage, parsley and chives
lemon zest
lemon juice
Salt and fresh ground pepper
Red pepper flakes (optional)
1 or 2 cloves of garlic (sometimes I add it/sometimes I don't)
olive oil
I put it all in the food processor and make a pesto like sauce. I have used it to roast potatoes or toss with vegetables or to marinade meat. It also goes nicely when I make Farinata or Rocca (savory chickpea pancake made with chickpea flour, olive oil and water). It is very simple and so good. I make the pancake and serve it with steamed or roasted vegetables. I spread the sauce on the pancake and serve the vegetables on top with a drizzle of good olive oil and good flakey seas salt. It is a wonderful vegan/Vegetarian meal. I have this recipe on the blog and there is also one with the chickpea pancake and ground lamb which is out of this world as well. One is defiantly more fall/winter and one is better for spring/summer. You can also make the pancake to go with soup instead of bread.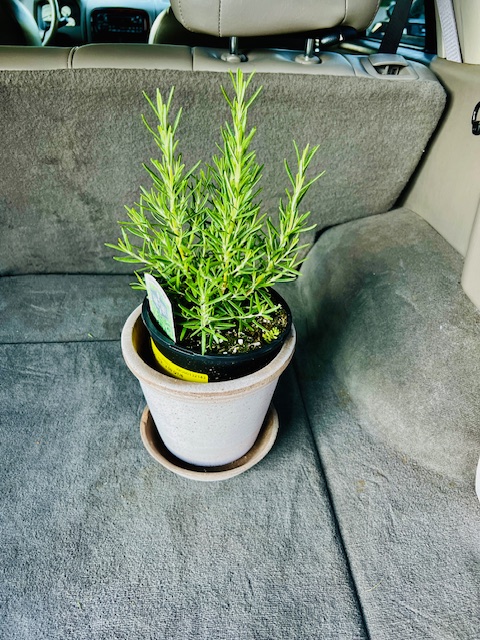 Play around with fresh herbs. I had an amazing dessert once at this great restaurant in San Francisco, Farallon. It sadly closed but was a favorite. The best was sitting in the bar and enjoying a Martini or a Negroni and watching the hustle and bustle of city life go by while enjoying an incredible meal. They had a special dessert once, Yuzu sorbet with a basil mint sauce. It was out of this world good. Yuzu is a citrus fruit from China. It has a strong lemony taste and flavor. It is used in both savory dishes and sweet dishes. It also makes amazing jam.
Experiment and play with your favorite herbs. You may create something special. The sauce I created because I had so many fresh herbs and so many lemons on my true just came to me. I love pesto but sometimes it can be way to rich either to much cheese or to much garlic. I adore both but believe there has to be a balance.