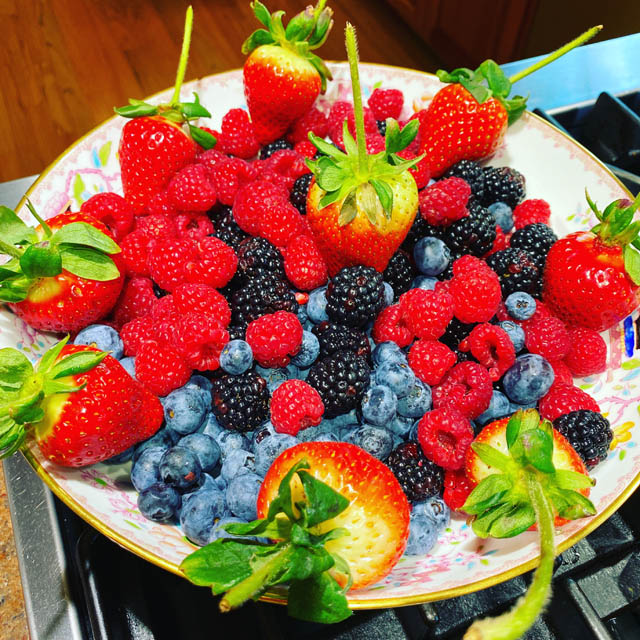 I love fresh fruit, peak of the season, it is at its sweetest. When cooking with in season fruit, I use half the sugar since the natural sugars shine through. Berries in season are the best but we are big fans of berries so I do buy them year round, sometimes they are good and sometimes not so. When you can buy in season they are always out of this world good. I grew up on a ranch where wild blackberries grew and in July and early August our fingers were died blue from picking and eating. We never managed to get them home and have enough to make jam or pies.
Cherries are another favorite. The season is short so by the time it is over, we have managed to make so many wonderful recipes both sweet and savory with cherries. I love that they are perfect for all sweet desserts from pies to cobblers to clafoutis. Cherries also do really well with pork, lamb, duck and salmon dishes. I have made salsa's and chutney's from cherries. I also have pitted pounds of cherries and put them in a big vat with vodka and let them sit in a dark place for a couple months then serve them over ice cream or fresh whipped cream and a brownie. Delightful!!!
Fruits that are staples in my home:
Blueberries
Raspberries
Cantaloupe
Citrus
Apples
Bananas
Pineapple
Mango's
Avocado
Strawberries are delicious in season and can be through out the summer but in the fall and winter I find they can be terrible in flavor and rather soft. I don't buy these out of season. A fresh strawberry, peak of the season, is a bite of joy.
Peaches are another in season only fruit I buy. Like cherries, peaches can be cooked universally, sweet and savory. Peaches grilled with fresh olive oil and some rosemary with a sliver of Pecorino cheese is wonderful. You can use peaches in salsa's and chutney's as well as marinades for meats. As far as peaches for sweet, grilled with some sweetened mascarpone cheese or cream fraiche and a drizzle of honey is always delicious. Peaches can be used to make ice cream, cobblers, crisps, pies and more.
Persimmons are a favorite fall fruit. I love them firm and delicious. I tend to eat a lot when in season. I trim the top and then quarter and enjoy. I also use them in savory cooking. I have a salad I make at Thanksgiving with arugula, sliced persimmons, and shaved Parmesan Reggiano cheese. It is a wonderful salad that I make for dinner parties in the fall. Sometimes I add pomegranates for a pop of color.
Another fruit we love but I tend to buy only in the summer months are papaya. They are so good for you and again you can use them for both sweet and savory. I love to make mixed berries in a bowl with a touch of lime juice and fresh mint, then serve in a halved papaya.
Melons tend to be in season year round but the best time to buy them is in the summer months. They taste the best and the texture is perfect. I love a wedge of a good cantaloupe so does my daughter. They also taste delicious when paired with salty meats and cheeses.
I love apples, eating and baking. My go to is a Fuji apple. I try and eat an apple a day. As they say, "An apple a day, keeps the doctor away!"