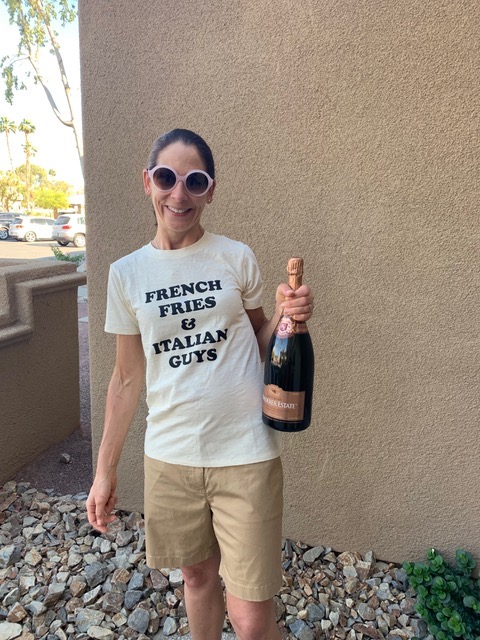 It is always nice and customary to bring a gift to the host or/and hostess of a dinner party or if you are going to stay for a night, a weekend or longer. Gifts can range from flowers, wine, a contribution to the meal such as hors d'oeuvres, salad or dessert or something more personal if you know the people quite well.
I tend to bring 2 bottles of wine, one for the party and one for the hosts to enjoy later. Flowers are always wonderful, but I tend to order those before the party so they arrive and the hosts can place them where they want. I always ask to contribute and bring so usually I will do flowers or wine and then bring a dessert.
If you know the people very well then it is nice to bring something more personal, a pretty vase, chocolates from a favorite purveyor, beautiful dish towels, stationary, these are just a few ideas.
It is always nice to write a thank you note the next day to thank your hosts for their delicious dinner, wonderful evening or the invite to stay.
Here are some ideas for Host/Hostess gifts:
Flowers: bouquet/ orchid or order flowers ahead of time so they are delivered the afternoon of the party or your visit.
Wine/Champagne or sparkling: 2 bottles, one for the party and one for the hosts
Chocolates from a special chocolatier, Cheeses from a special purveyor, Salami from a special purveyor
Contribute to the meal: hors d'oeuvres, charcuterie, salad, side dish, or dessert
Olive oil or/and Balsamic vinegar or Salts/Spices
Cheese board/vase/ wine coaster
Soaps or candles from a favorite store
Teas and/or coffee from a favorite roaster
Bakery treats from a favorite bakery for the morning
Monogramed paper napkins
Here are some ideas so you never have to worry about showing up empty handed. These are all simple items and a wonderful way to show gratitude to your host/hostess.