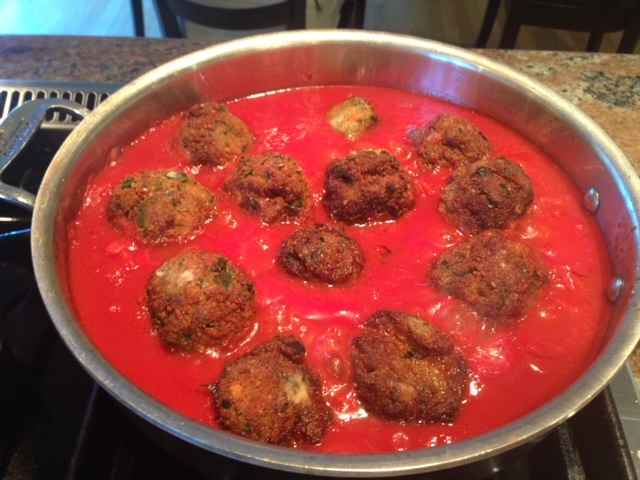 Meatballs are delicious and my kids are huge fans. We like to get creative using different ground meats besides the usual suspects, ground turkey, ground chicken and ground pork. Most meatballs don't just call for ground beef. It usually is a combination of ground beef with ground pork sausage and sometimes ground veal. We make a lot of lamb meatballs. Lamb has great flavor and we love Mediterranean food.
Making meatballs is pretty easy. If there is one thing to always remember it is to be gentle. If you man handle them to much they get touch. Also the best way is to use your hands and mix the ingredients and roll the balls. I use gloves for many reasons when I cook but especially when making meatballs. Here are some ideas to making wonderful meatballs for your family.
Italian Meatballs: ground beef, ground pork sausage ( I like to blend both the spicy and mild(sometimes they call it sweet), S/P, garlic, Parmesan cheese, bread crumbs, and fresh herbs such as parsley/basil/oregano.
Mediterranean Meatball: ground lamb, fresh chopped mint/cilantro, ground cumin/coriander, panko/egg or both. Other ingredients that can make an amazing lamb meatball: ground cinnamon, parsley, lemon zest, and minced onion.
Ground Pork Meatballs (tend to be more Asian flavors): ground pork, hoisin sauce, garlic chili sauce, green onions, cilantro, egg yolks, panko, fresh ginger, garlic, (sometimes instead of using panko, I will use brown rice as the binding agent)
Ground Turkey Meatballs: These are a blank canvas as you can really make any flavor meatball. Mexican would be ground turkey, brown rice or use smashed black beans with cilantro, line zest, chipotle pepper, chopped jalapeño pepper and even add some cheese and avocado. You can follow the Asian or Italian flavors as well.
Ground Chicken usually needs some fat added, I tend to mix in ground pork sausage. It makes for a more flavorful meatball and adds moisture. Like turkey, ground chicken can really be whatever you want it to be as far as flavor for the meatball.
Ground Bison: I have a family favorite recipe on the blog for bison sliders or meatballs that uses rice, currants, almonds, parsley and mint. They are delicious. Bison is great because it is so low in fat but high in protein. Bison meat works wonders with any flavor profile and doesn't need much fat added to make it bind.
Binding Ideas: eggs/egg yolks, panko or bread crumbs, grains or dry oatmeal, and smashed beans (black beans or chickpeas work great) and mushrooms.
Additions to meatballs: cheese, mustard, chopped olives, capers, pickles, roasted red peppers, pesto, hummus, yogurt, anchovies, curry paste, and more.
As far as cooking a meatball there are many ways: simmer in a sauce, bake, or fry. I prefer to simmer or bake them. I find this way they stay moist and hold their shape. Meatballs are great because you can make them ahead and freeze them. Pull them out as you need them, they hold their shape, plus stay moist. You do not need to thaw them, just bake them from the freezer.
It is a simple process, just use your favorite kind of cooking oil: olive oil, grapeseed, or avocado oil and a good roasting pan. Oil the pan well and place the meatballs in the prepared pan and bake at 375/400 for about 15-25 minutes. If simmering add the meatballs gently to a simmering sauce and cover ajar, for 20-30 minutes-also depending on the size of the meatball. I tend to make mine a little smaller than a golf ball.