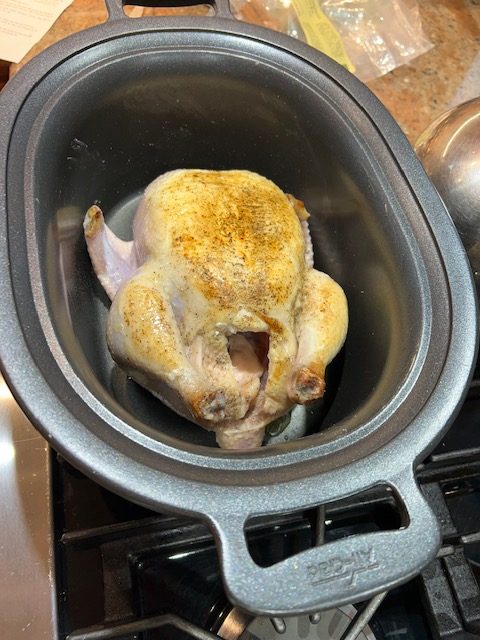 I was someone who was totally against crock pot's, but then my aunt gave me an All-Clad Slow Cooker and once I started using it, I like it. I still prefer to cook and braise food over the stove for hours in my Le Creuset Dutch Oven's. The insert comes out of the slow cooker and can be used on the stove so flavor is not lost. Also, it makes reheating so much easier. Here are some simple recipes to use your your slow cooker and crock pot that don't require many ingredients and are easy for a hungry family.
Chicken thighs (bone in/Skin on), salsa verde or salsa, lime juice and if you like chopped onions-put in the crock pot and cook for 8 hours on low.
Flank Steak, sliced onions, salsa, chipotle pepper, 2 Tablespoon Tequila-put in the crock pot and cook for 8 hours on low.
Stew Meat (beef or pork) with carrots, celery, onions, Worcestershire sauce, red wine, garlic cloves, and a boy leaf on low for 6-8 hours.
Boneless Pork Shoulder/butt with bbq sauce on low for 6 to 8 hours.
Chicken thighs or whole chicken cut into 10 pieces with sliced lemons, whole peeled garlic cloves, salt/pepper, sliced onions and a few rosemary sprigs in slow cooker for 6-8 hours on low.
Pork shoulder/butt with dry rub of choice, citrus slices and juice, garlic or/and red onions on low for 6 to 8 hours.
Pork shoulder/butt with a Mexican spice rub, can of larger, garlic, red onions on low for 6 to 8 hours.
Meat/Veggie stew- stew meat of choice, butternut squash, carrots, garlic, curry paste, coconut milk, salt and pepper on low 6 to 8 hours.
You can really play around with cuts of meat, flavor of marinaded wet or dry, vegetables of choice: carrots, onions, garlic, winter squash, Brussels Sprouts, fennel or whatever you feel that will add flavor. Mix in fresh herb sprigs or dried herbs such as a bay leaf or a mix of dried herbs/spices. The size of the meat depends on the length of cooking time. I usually cook for 6-7 hours then allow it to stay and warm for an additional hour. This way whatever I am cooking stay moist and doesn't over cook.