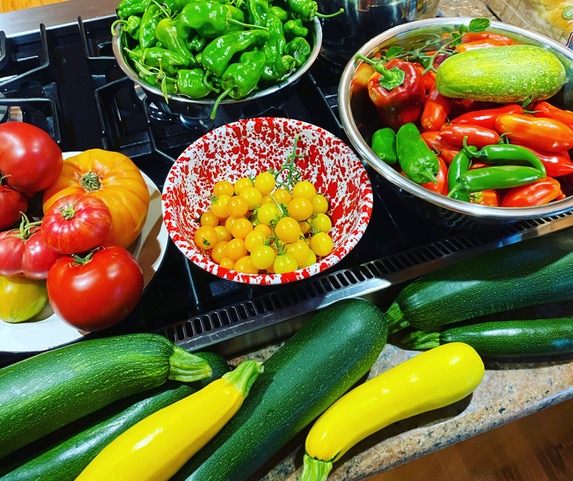 I love summer time!! I love to be outside as much as I can. I love my garden and I also enjoy my Saturday mornings at the local farmer's market. Our garden always has a wonderful bounty of summer squash, variety of tomatoes, variety of peppers, variety of herbs, eggplant and lemon cucumbers. I go to the farmer's market to get mushrooms, berries, stone fruits, meats, cheeses, fish and produce we aren't growing. I love eating and feeding my family what is in season. There are so many options on how to prepare summer produce. We entertain regularly through out the summer so we are having grilling and dining al fresco.
Zucchini: ratatouille, vegetable tart, frittata, scapriccia, bread, soups, stir fry, fritters, grilled, noodles, and more.
Tomatoes: Where do I begin? BLT, salads with burrata, with raw Mozzarella, pastas, sauce, tarts, frittata, salsa, Caprese salad, Gazpacho, Greek salad, pizza, ragu, Galette, risotto, and focaccia.
Eggplant: ratatouille, rollatini, grilled, caponata, baba ganoush, Moussaka, stuffed, and oven roasted. I love to slice and drizzle with olive oil and herbs. Once cooked, stack with cheese, sliced tomato and fresh herbs.
Lemon Cucumbers: In salads, pickled, sliced with tomatoes and a drizzle of oil and a sprinkle salt.
Berries: pies, muffins, cakes, cheesecakes, salads, galettes, and more.
Peppers: Padron/Shishitos, bell peppers, sweet Italian peppers, and jalapeños.
Onions: Leeks and Grilling Onions-grilling these always is a good idea. Onions on the grill are perfection, the heat brings out their natural sweetness.