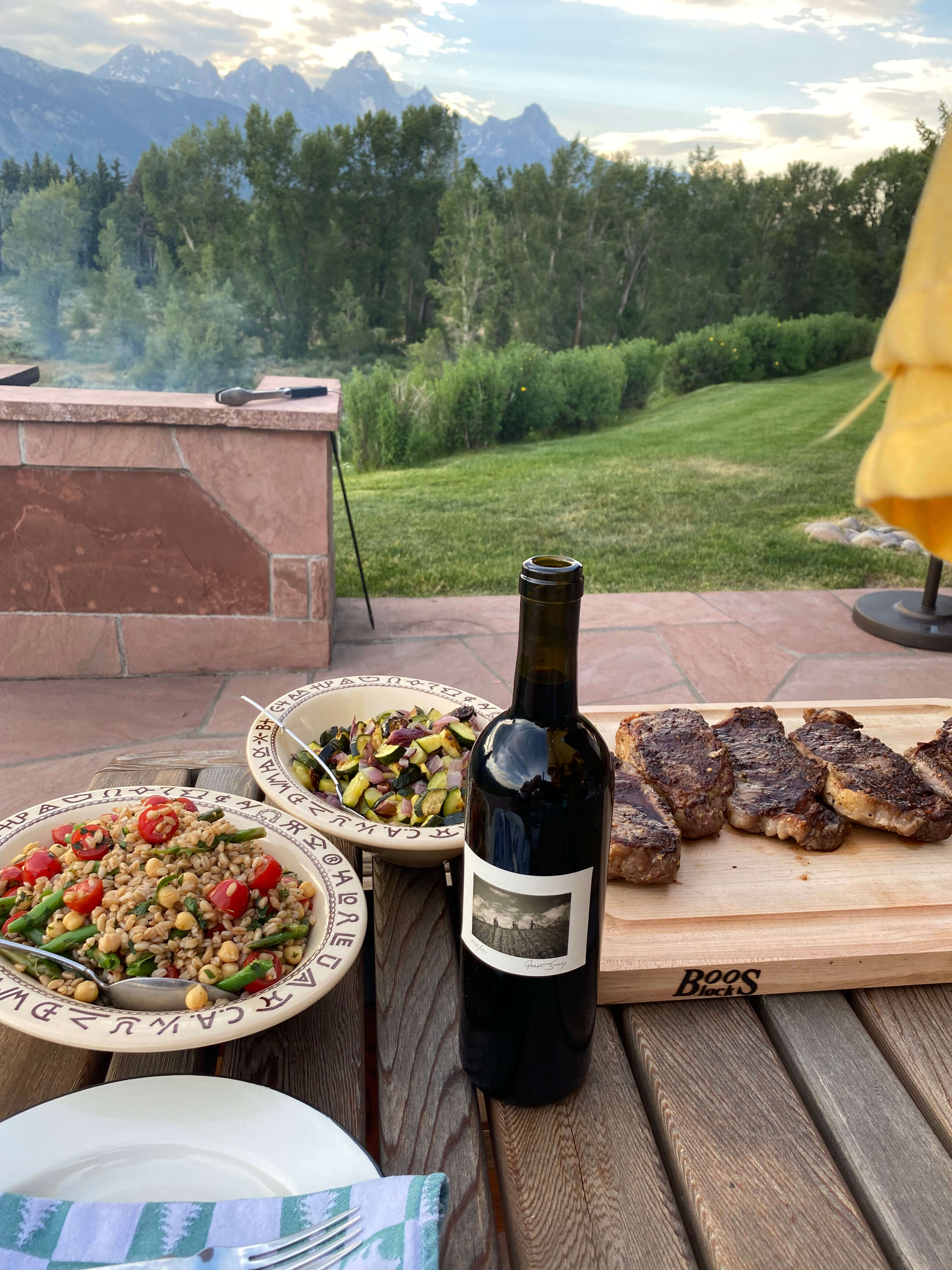 My family and I spend the summer in Wyoming. I grew up spending most of my time in Wyoming with my grandmother, Binky. She was my person. We connected on so many levels and I looked up to her for so many reasons. She gave me the love of cooking, fly fishing, photography and entertaining. She was the best host and always threw the best parties. They were about friends getting together, good food and great wine. When we are in Wyoming, we spend the summers outside and always eat outside. We grill almost every night but there is a lot of prep work that goes into each meal in my Ranch Kitchen.
When I am cooking in my Ranch Kitchen, I feel close to Binky. I feel her around me. She passed 11 years ago and I miss her dearly. I feel cooking and entertaining celebrates the amazing lady she was.
Putting together a "Vacation Kitchen" is challenging. You have to take into consideration: length of stay, access to ingredients and waste. I always buy so much and have ideas of making great meals but once in my "happy place" I want to keep things simple. I like to marinate meat/fish simply with herbs from my small herb garden, garlic, citrus and my vast collection of Penzeys spices/herb blends. I also like to just throw vegetables on the grill. My family and I eat simple meals. I tend to bake more than I cook. I love making fruit cobblers/crisps/buckles/pies and galettes.
I like to go to Farmer's Market's and buy local from farmers and growers. With the abundance of fresh produce in the summer, it makes life easier. If we go on vacation and rent an AirB&B and only there for a week or two, I try to think ahead and think about meals that I might want to make as well as what is available and what is in season.
I like to label ziplock bags and fill with dry ingredients I might need: spices, herbs, baking ingredients, nuts, crackers, rice, grains or/and beans. If I know I will be baking a cake/cookies/ muffins or scones, I do all the dry measuring and place in labeled bags so all I have to buy is the eggs, butter, milk or cream.
I also keep a list on my phone in the Notes App so I have a staple "Vacation Kitchen" list. It is always changing but there is a core list the stays the same. Hope these tips help and always enjoy your vacation and remember to keep it simple so to relax and enjoy your family and friends.