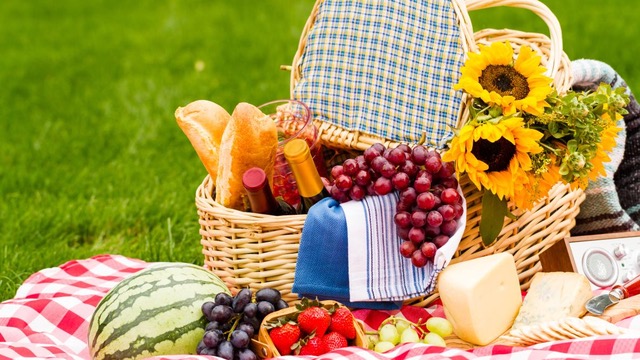 Who doesn't enjoy a wonderful picnic. We love to dine outside and so when we have a day to take a hike, go to the ocean, go on an adventure or if we have guests visiting and we go wine tasting, we like to pack a picnic and enjoy the beauty around us. Obviously, if we are going on a family picnic, I will preface the sandwiches or just bring cold cuts and sliced cheeses as well as apples and grapes with sliced vegetables and hummus. When packing a picnic for my husband and I or for friends and a day of wine tasting, I tend to have a chilled bottle of wine (usually a Rose), a variety of cheeses, meats, crackers, dried fruits and of coarse something sweet baked that morning. My kids always request my famous, chocolate chip cookies but those take 2 days to make so it makes being spontaneous hard. I usually will make my snickerdoodles, peanut butter cookies or my sprinkle bars. If it is adults only, then I will make my espresso shortbread, saffron pistachio biscotti or my creme fraiche bars.
Kid's Picnic: pbj, ham and cheese, blt, or veggie sandwich. My kids love to nibble so grapes work and if strawberries are in season I will bring some. They love watermelon so it is always easy to bring. Sometimes they want to make their own sandwiches while we picnic, so I will bring sliced turkey, ham, prosciutto and sliced cheddar and havarti with 2 baguettes, that they can cut to create their own picnic masterpiece. I also bring chips or popcorn and plenty of sliced bell peppers, cucumbers, and snap peas to dip in hummus or ranch.
Adults Picnic: Selection of different cheeses: Manchego, Asiago, Fontina, Mozzarella, Camembert, Comte, and Burrata. For local cheeses, I like Bellwether Farms cheeses especially their Pepato, Point Reyes cheeses such as their Roma and Gouda. I do enjoy a beautiful Stilton blue cheese. I like to pair this with grapes, sliced apples/pears, dried fruits, and a wide variety of sliced vegetables with some dips. Various breads/crackers, prosciutto, fennel salumi, truffled salumi, hot soppressata and sweet soppressata.
Ideas to put in your picnic basket: Grain/vegetable salad, pasta salad, chicken curry salad, olives, Calabrian chili, mustards, cornichons, fig or quince jams, pate, and some dark chocolates.
Creativity: Be creative and have fun. I always like to have something special to surprise your guests. Have fun, bring something to sit on, pack plates/utensils, cups ( I like to use jars-sturdy and they are fun-for the kids-straws are a must), flowers and a pitcher add a nice touch. It there are tables bring a pretty tablecloth and festive napkins.