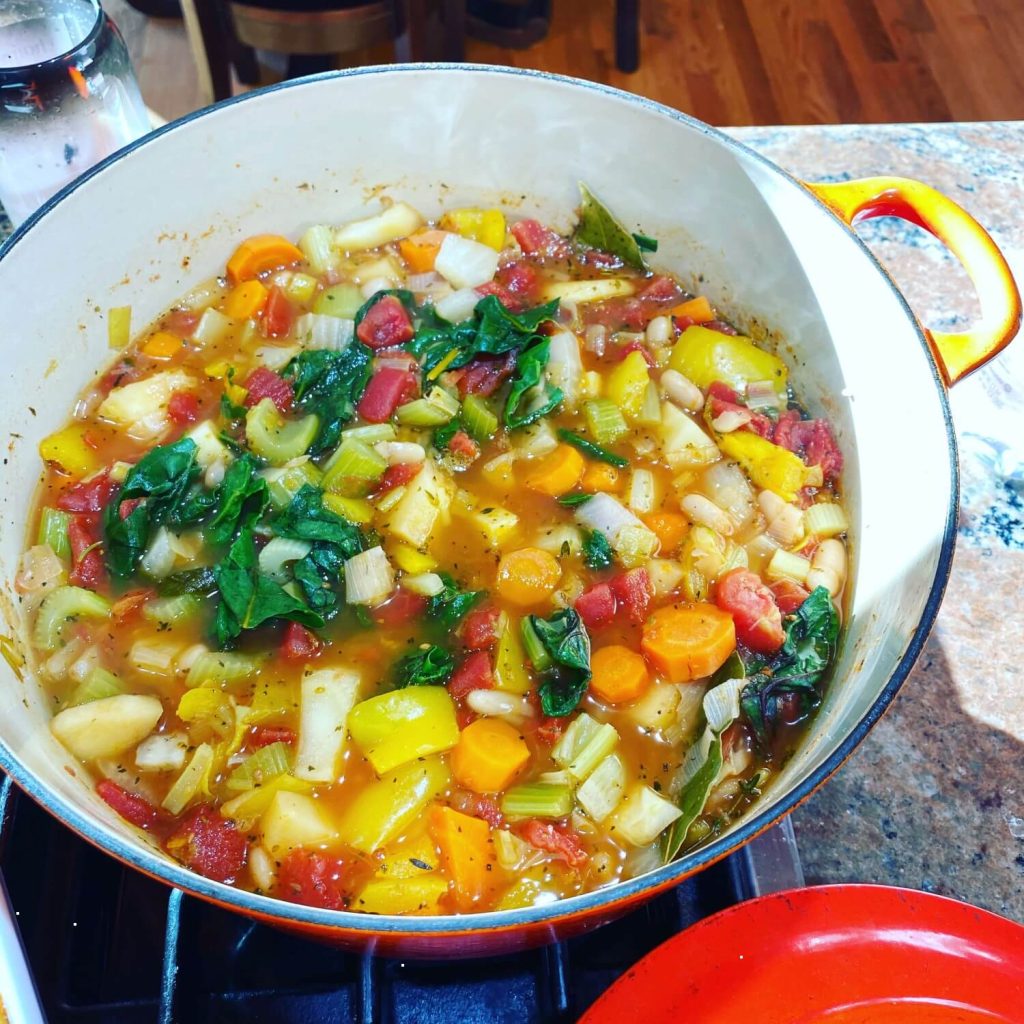 I used to be intimidated to make soups but once I started it became so easy. One doesn't really need a recipe to make a delicious healthy soup. It is important to have certain ingredients that will add flavor and build on texture. I am not a vegetarian but I tend to make more vegetarian soups and always use either homemade chicken stock or fish stock. I find vegetable stock bland. I also prefer the health qualities in a well made chicken or turkey stock. My stock for instance is rich in vitamins, minerals, and lots of good stuff. I try to put everything in my stock to fight off colds or germs. I make my stock to act as a shield to protect my family from germs but also have incredible flavor so one doesn't need to add a lot of salt. My stock is balanced but has a rich flavor. You have to use good ingredients to make a great pot of soup.
The base of a good soup is the carcass of a chicken or turkey for the stock. If making a fish stock, you would want to use shrimp shells/fish parts for the base. Here are some ingredients to infuse your stock with flavor:
water
carrots and celery
onions/shallots/leeks
peppercorns
fresh ginger/turmeric
apples/citrus
bay leaves
fresh herbs/dried herbs
I have a huge stock pot I received as a wedding gift 20+ years ago. I only use it to make stock because it is so tall and wide it can hold a 16-18 pound bird with all the good stuff I add in there to infuse my stock. I then bring it to a boil and simmer it for a few hours. Once the house smells amazing I know my stock is ready so I remove it from the burner and put the lid on to cool. Once cool it goes in the refrigerator overnight. The next morning, I remove the carcass/shells, and strain the soup. It is also a good time to skim the surface for any fat that has congealed at the top. Here are a few favorite soups that I make throughout the year. The recipes are on the blog.
Ribollita: a Tuscan soup made with vegetables. I keep the rind of the parmesan cheese and toss it in when the cook is done cooking. I allow it to melt and infuse the soup.
Butternut Soup with Miso: a family favorite and one I do most Thanksgivings.
Red Lentil Soups: So many good ones.
Turkey Vegetable
Chicken Vegetable
Roasted Vegetable Soup
Eggplant Tomato Soup
Some Soup Ingredients to add for texture: Rancho Gordo Beans/chickpeas, pasta, toasted bread, Parmesan Cheese rind, rice or another grain of choice.
Play around and all you need to start a good pot of soup is a heavy pot, a little oil and carrots, celery and your choice of added flavor onions, leeks or and shallots. From there you can create your favorite soup, chowder, bisque, or stew. Play around with seasonings and spices. I do love adding curry or cumin to my lentil soups especially when I add sweet potato or acorn squash. Butternut Squash can be flavored with so many different ingredients. You can't go wrong.