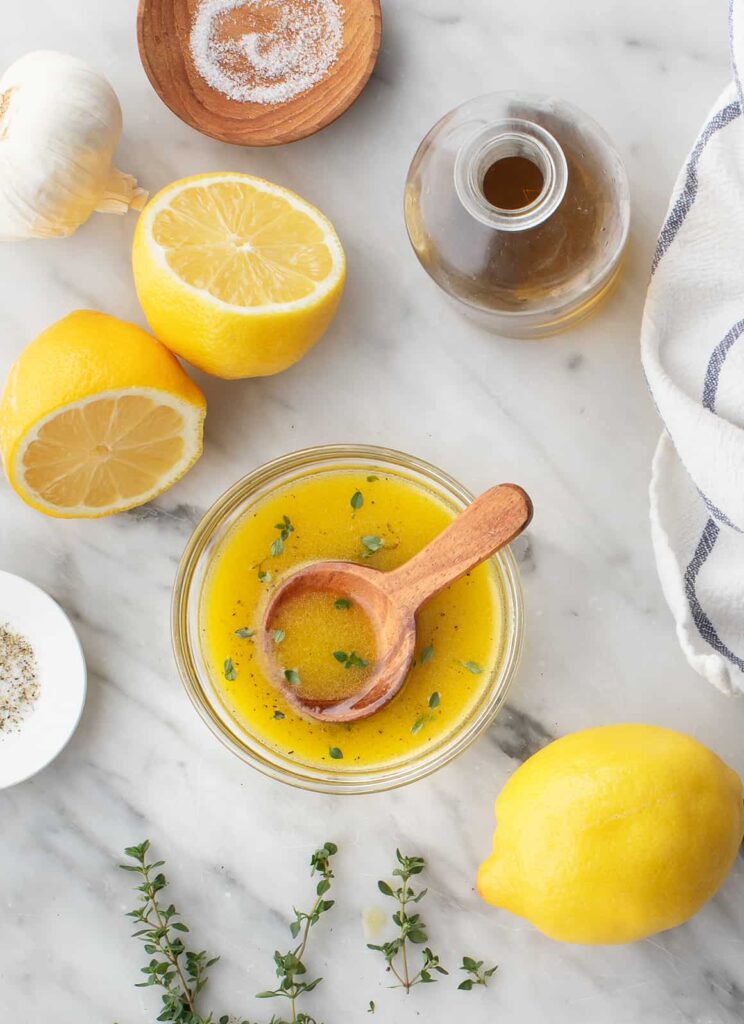 I grew up with my family always making their own salad dressing. The base was always really good olive oil and a really good vinegar: Balsamic, red wine, or another variety. Depending what was in the salad and what meal we were having depended on the other ingredients that went into the vinaigrette. Some staples besides the oil and vinegar were minced shallots or and garlic, Dijon mustard, rice wine vinegar or mirin, and plenty of fresh herbs from the garden. I have never been a heavy dressing fan but as a kid I did go through a ranch dressing phase. I have always liked Caesar salads and the classic dressing.
I tend to make a salad every night for my family. I keep it simple with a selection of different greens for flavor, crunch and color but tend to keep the dressing super simple. I also don't make the dressing ahead of time, I make the salad dressing on the salad. I will choose my vinegar, either red wine, champagne or just lemon juice and drizzle that on first then drizzle with a good olive oil (not one I use for cooking) then I season the salad.
The key to making the dressing on the salad is to always start with the vinegar then add the oil. If you do it opposite the oil and vinegar will never blend.
Here are good options for vinaigrettes:
Cucumber Salad Dressing: Chinese seasoned vinegar, pinch of sugar, cayenne pepper, minced garlic, mince green onion, toasted sesame seeds and snipped fresh chives.
Simple Dressing: Vinegar of choice, extra virgin olive oil, salt and fresh ground pepper.
Balsamic, olive oil, and Dijon mustard- good dressing for hearty greens such as kale, escarole and cabbage.
Lemon juice, lemon zest, olive oil, Maldon salt and fresh ground pepper.
Balsamic, extra virgin olive oil, Dijon mustard, minced garlic, honey and salt and fresh ground pepper.
Basic Italian Dressing: red wine vinegar, salt, fresh ground pepper, dried oregano, dried basil, pinch of sugar, and avocado oil.
Classic French Dressing: Sherry vinegar, Maldon salt, shallots minced, Dijon mustard, fresh herbs such as tarragon, chives and thyme and olive oil.
My grandmother made the best spinach salad. It was famous. It was a staple at every dinner party or family meal. Her dressing was hearty and also proved to be a good marinade as well. Here is the famous recipe:
1/4 cup safflower oil
1/4 cup olive oil
1/4 cup Balsamic
2 Tablespoons sugar
3 Tablespoons Ketchup
1 Tablespoons Worcestershire sauce
Garlic powder
salt and fresh ground pepper
Whisk well or when I make this I do it in a clean jar and find shaking it well with a tight fitting lib always works best.