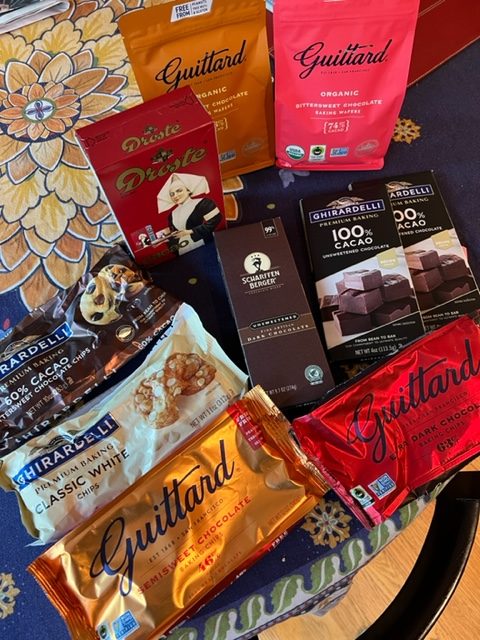 Baking with chocolate does have its challenges especially when trying to melt it. I have found for some recipes that require you to melt butter and chocolate together, it is better to do it in a pan on the stove over med low heat but if all you need is melted chocolate to add to a batter then really the best way is the microwave, but there is a skill to it and knowing how hot your microwave runs as you can very easily burn the chocolate. There are cookie recipes on my blog that require you to melt the butter, either chocolate or white chocolate. The key to this success, is knowing how to put the power of your microwave at about 1/2 and checking the chocolate every 30 seconds. My microwave has an add 30 seconds button which I love when it comes to heating maple syrup for my kids, melting butter for a recipe or melting chocolate. It also has a power button, which allows you to control the power from 2-9, I usually choose a power level of 5 or 6. Milk, semi sweet, bittersweet and dark are easier to melt than white chocolate. White chocolate can be temperamental and should be done in a slow and controlled manner. It also helps, once the chocolate begins to melt, give it a good stir. This helps distribute the heat so the the chocolate doesn't burn.
There are many different kinds of chocolate when baking:
Unsweetened Chocolate: Contains no sugar and contains 99% cocoa solids. Used to enhance a chocolate dessert.
Bittersweet Chocolate: Has less sugar and more cocoa solids.
Semi-Sweet Chocolate: Has more sugar and less cocoa.
Milk Chocolate: Solid chocolate made with milk (powdered milk, milk or condensed milk)
Dark Chocolate: Has the highest % of cocoa solids and the fat coming from the cocoa butter not milk and sugar. This can be used for eating or baking and usually has the % of cocoa listed on the packaging. It is also the best chocolate for you. It is very high in antioxidants.
White Chocolate: This is made from cocoa butter, milk and sugar. There are no cocoa solids in white chocolate.
Unsweetened Cocoa Powder(natural): Pure ground cocoa powder. Reddish-brown in color, not a deep brown. Tends to be acidic, deep chocolate flavor and can be used in baking sweet dishes or in savory dishes as well.
Dutch Processed Unsweetened Baking Powder(alkaline): The beans are neutralized and in doing so it provides a milder chocolate flavor. The color is deep brown.This is best used in smoothies, ice creams or sweet recipes. Even though it is considered unsweetened, it tends to have a sweetness to it.
Ruby Chocolate: I discovered this after reading an article in one of my many food periodicals. It sounded so good, so I found some and ordered it and was pleasantly surprised. It has a wonderful flavor quality to it that tends to be quite smooth like milk chocolate but also fruity notes. The color is beautiful. It is newly developed by a Belgian-Swiss chocolate company. It is made from the Ruby cocoa been and that is why it has a mauve color tone to it. To me it is like drinking wine as it really has a dynamic flavor quality to it. It is worth a try.
Favorite Brands: Droste Dutch Process Cocoa Powder, Hershey's Cocoa Natural Unsweetened, Ghirardelli, Guittard, and Scharffen Berger Chocolate. These are all stocked in my kitchen. I do use Toll House Mini Chocolate Chips when making homemade pancakes and my famous Banana Chocolate Chip Cake with Peanut Butter Frosting. They are also great when making an ice cream sundae bar.