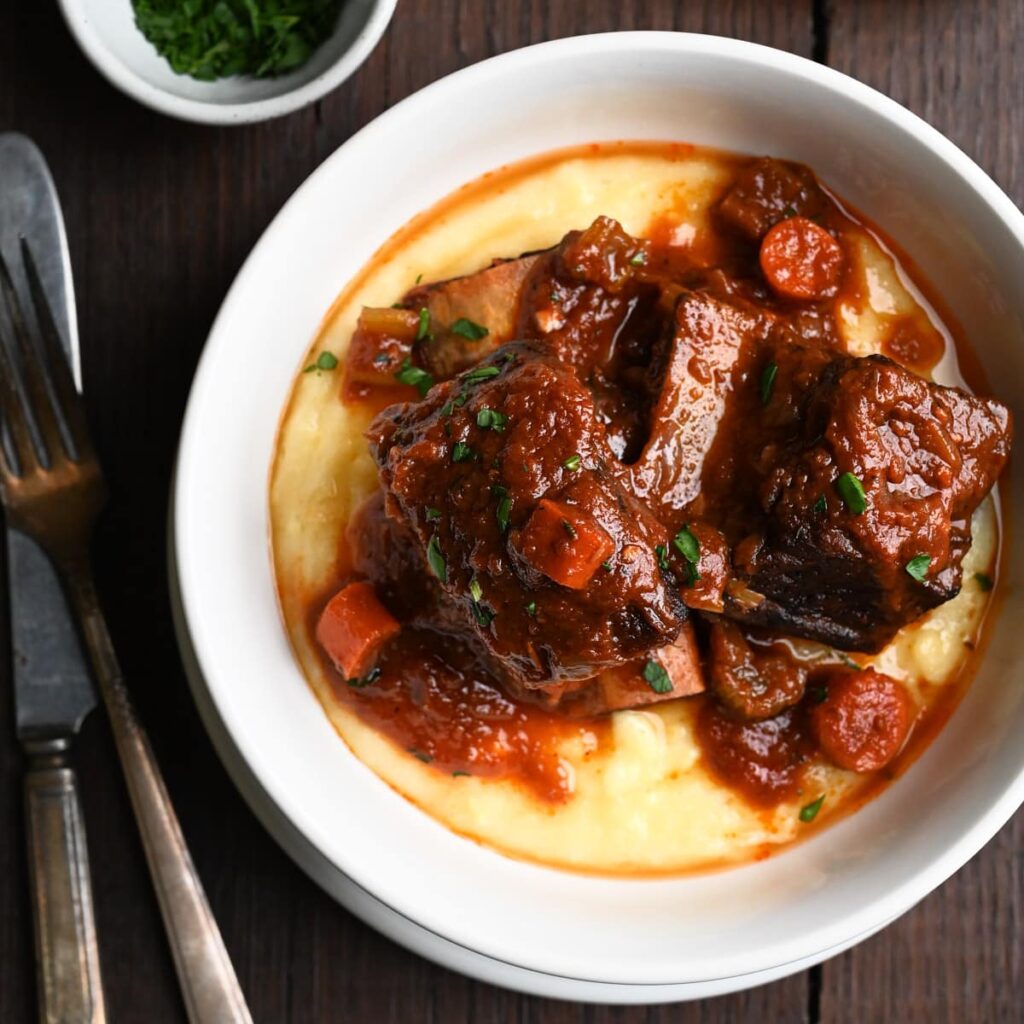 We all have our own definition of comfort food. For me comfort food is a roasted chicken or making a pot of soup. I like foods that warm me up and comfort me from the inside out. I know lots of people who find comfort in fried foods or macaroni and cheese. It is amazing how we all can like different foods and how it nourishes us, but there are those foods that not only taste good but also sooth us. I tend to crave comfort food when I am cold or on a cold, wet day. If it is rather bleak outside, nothing is more gratifying than making a large pot of soup or roasting a chicken. Here are some wonderful ideas for healthy comfort food that will warm your soul and keep you feeling nourished through winter.
Polenta: Easy side dish or main. Can be done on the stove or in the oven. We use two brands, one national, Golden Pheasant and one local, Front Porch Farms. The Golden Pheasant, I do in the oven: 3 cups water to 1 cup polenta in a heavy pot with a lid and some salt. Place in a 350 degree oven for 1 hour, stirring every 15 minutes. When done, the consistency should be perfect, not to thick and not to runny. It is personal how you enjoy it so make it to your fancy. If it becomes to thick, you can always add some boiling water to make it a more desired consistency. Polenta can always be made a day or two ahead and placed in an oiled baking dish, allow to cool, cover with plastic wrap and refrigerate. You can cut into squares and lightly fry in just a little oil and serve with cheese, meat, sauce or roasted vegetables.
Potatoes are delicious. I like my potatoes simply roasted in olive oil and coarse salt. I do enjoy a baked potato. Using a fork, I poke all over the potato and run in olive oil and coarse salt. Place in a 400 degree oven and roast for an hour. Allow to rest for 5 minutes then make a slice in the middle and add your favorite condiment: olive oil, hot sauce, sour cream or plain yogurt. Mashed potatoes are good but I am picky about how I enjoy mine. I prefer mine to have some texture and prefer using the small yellow or red potatoes rather than the super starchy Russet potatoes.
Whole Chicken is my favorite. It is easy and so nourishing. You really can do any flavor profile and it will be perfect. I am simple and just like to use citrus, fresh herbs, and then add a savory onion, garlic or and shallots. I also like to have a bit of dry white wine or vermouth to add to the bottom of the roasting dish to make a tasty sauce to drizzle on the meat when serving. Simple Cooking, place in an 375 degree oven for 1 hour. If the bird needs more color, at the end raise the heat to 450 for 8-10 minutes. Allow the chicken to rest 10 minutes, tented with foil and serve. You can always make a herbs butter to rub all over the bird before roasting and throw in some potatoes, carrots, Brussel Sprouts and herb sprigs around so you have a complete meal once the chicken is done.
Short Ribs are always hearty and delicious. These are so easy and can be done simply in a slow cooker or braised for a few hours on the stove. I have a simple recipe on my blog of red wine braised short ribs. It is easy and so flavorful with only 6 ingredients. Thrown it all in a slow cooker and in 7 hours on low you have a meal. Braising on the stove will deliver a better flavor overall but both ways deliver a hearty meal. Again, you don't need a lot of ingredients and really any flavor profile will work. Short ribs work well served on a bed of polenta, mashed potatoes, barley, rice or pasta.
Hearty Soups and Stews are always perfect on a cold evening or for a good lunch. Vegetarian or meat or seafood, you can't go wrong. There is always a balance of flavors but if you use lentils, grains or beans and are heavy on the vegetables, you will have quite a filling meal that is very nourishing.
Casseroles are not something I grew up eating or do I make, but I can appreciate international casseroles such as Shepherd's Pie, Moussaka, and Lasagna. I do enjoy the first two and have made them once or twice. I was first introduced to the first two when I was 14 and spent the summer in Scotland. After active days, playing sports, learning to sail and hiking both Shepherd's Pie and Moussaka were a welcome to belly and body for a filling and warming meal on cold Scottish evenings.