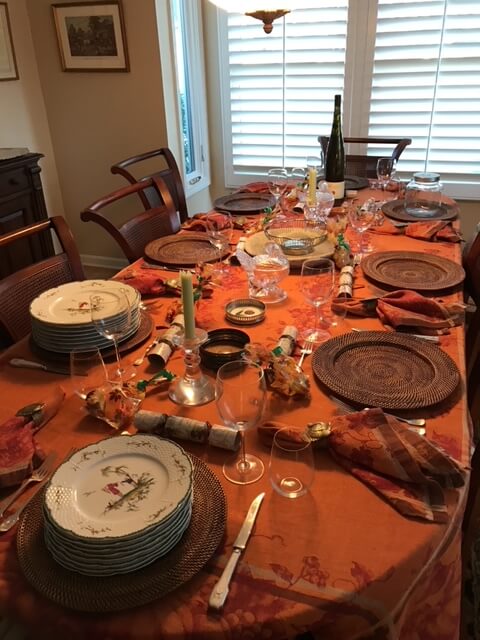 My husband and I love love to cook and entertain. Holiday meals I find are easier to plan as I have my arsenal of favorite recipes that are tried and true over the years. I always like to change it up and add a few new dishes so people don't get bored of the same old, same old, year after year. I always try to add one new dessert and one new side especially at Thanksgiving.
Christmas Eve, I like to prepare something light like fish or turkey breast. Christmas, I always prepare a very special meal with a show stopper dessert. New Year's Eve, we like to cook to a theme. We have amazing friends who have spent the last 5 New Year's with us and they are incredible chef's. We like to do something big and exciting. They made Beef Wellington one year that was epically beautiful in presentation as well as taste. We like to come up with a theme of sorts and create cocktails and a meal to celebrate the end of the year.
Dinner parties in normal time are more relaxed and knowing your guests is key. You must take into consideration allergies as well as any other dietary specifications. Once past this, planning a meal is easy. If it is spring, summer and even fall especially here we can still eat outside which makes it all the better. I love to dine al fresco. My husband usually grills and I make all the sides, a salad and some marvelous dessert.
When it is cold outside, I love to prepare braised meats with polenta or hearty stews and soups with delicious bread and a salad with fennel, citrus and radish. I also like to prepare rich, chocolate desserts that go nicely with a wee glass of single malt or a glass of port. Winter nights are always fun, hearty and the house smells delicious and inviting.
We love to get creative with the wines and so fun to start with sparkling and welcome people. The bubbles I find are a wonderful way to welcome friends and family and celebrate being together. From there you can continue with a white wine or move into a light red or rose. For winter dishes or meats on the grill it is always nice to have a red that matches the meal. Serve what you enjoy. You can always be old school and welcome people with a cocktail. Gin and tonics are delicious and I always serve them with a couple sprigs of something from the garden like thyme, rosemary or lavender. Even basil adds a delicious twist on a hot summer night. Throw in some berries for color and added flavor. Martini's are fun and always a favorite, but our house cocktail is a Negroni. We are use fans of Campari. A Negroni is a delightful combination of Campari, Gin and Vermouth with a twist of orange. We prefer to serve them on the rocks.
Have fun, get creative and tie it all together. The point is being together and celebrating family and friends. Create mood and ambiance with music and fun place settings. Cheers and buon appetito.