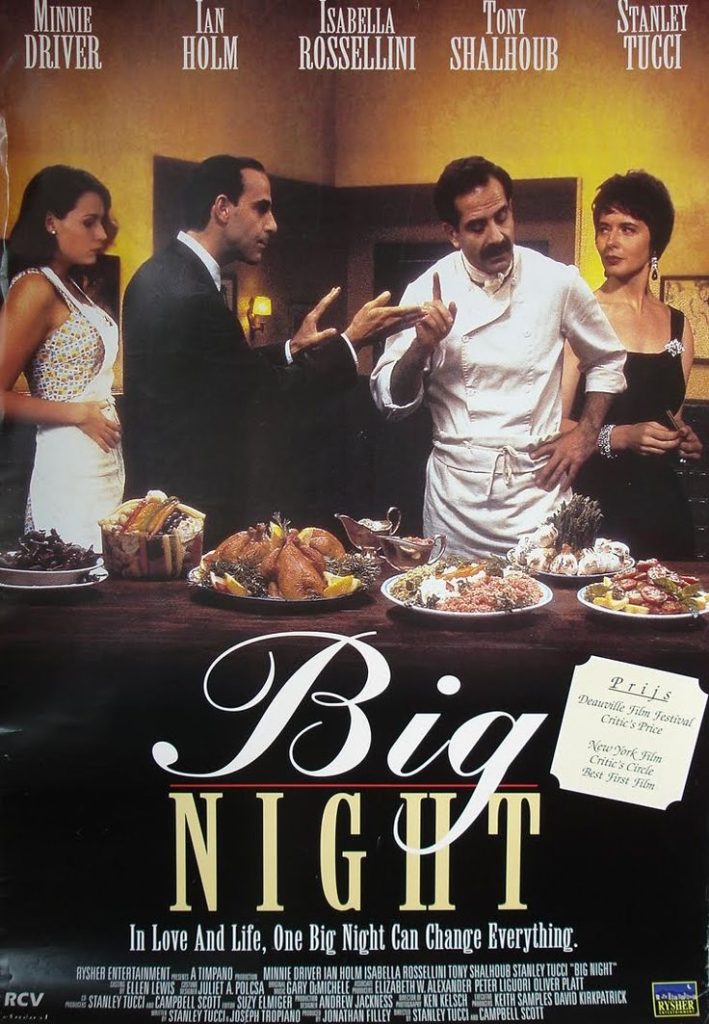 There are so many films about food and cooking that are wonderfully entertaining as well as inspiring. I love the film, Big Night. It was hard to choose which movie poster to use: Chocolat, Chef, Babette's Feast, Like Water for Chocolate, Eating, Julie & Julia, Burnt, and Ratatouille (my daughter loved this film when she was little) to name a few. Some of these films are American and some are foreign, but they all celebrate cooking, eating, and feeding people. It all comes down to sharing a meal.
Now there is so much attention around food and chefs. Between all the films, shows (Anthony Bourdain, Stanley Tucci) and the Netflix series, Chef's Table, we foodies can get our fix, get inspired and learn something new. I am constantly amazed and inspired by my friends who are great home chefs as well as all the programming on food and wine available. I find it relaxing to watch and it also encourages me to challenge myself in the kitchen.
When I was living in Boston, my friends and I would would have movie nights where we would pair a film with food and wine. It always made the evening fun and an adventure. This is a fun way to entertain friends or a date night in. You can always search for recipes from these films and create fun times in the kitchen when you are preparing food with loved ones.
A film doesn't need to be about food to inspire a fun night in or out. When I saw Monsoon Wedding, I went out with friends for an amazing Indian meal. I love Indian food and would love to visit India someday. I adore the films, Summertime, and, A Room with a View, they always make me long for Italy and the amazing food.
Try a themed film and food evening and create some fun, add a great bottle of Italian wine to go with Big Night and a bowl of spaghetti and meatballs. If you are watching Mamma Mia (my daughter loves this and watches it repeatedly), serve a bottle of Greek wine with roasted lamb chops or citrus stuffed Branzino. Watch Chocolat, after dinner and enjoy a glass of Cognac with a chocolate tasting. Watch the many Julia Child films/documentaries and make something wonderful out of her cookbooks.
Have a fun night in solo or with friends and have everyone contribute to the night. Make a special date night and watch an oldie but goodie and pair with a great menu and wines to create a magical evening.
Something fun to do with the kids, watch a holiday film and make a hot chocolate board with a pot of hot chocolate with a board with: marshmallows (big and small), candy canes, sprinkles, whip cream, pretzels, caramel, meringue, cinnamon sticks, chocolate chips, oreo cookies, and/or Pepperidge Farms Pirouette chocolate fudge filled wafers.