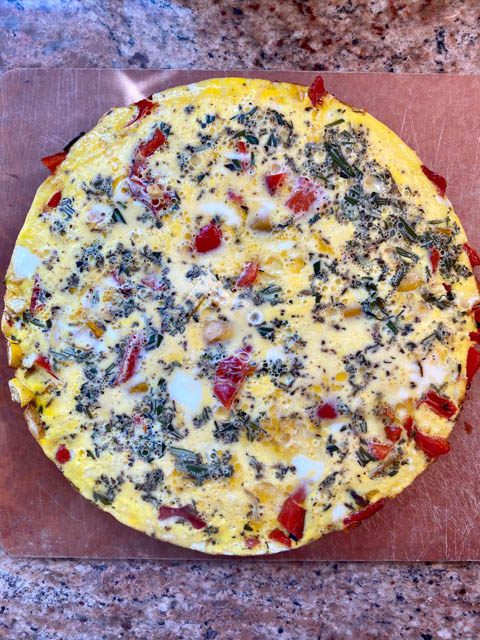 We eat a lot of Frittatas as they are delicious for breakfast, lunch and dinner. They are easy to make, healthy and good cold or hot. We tend to make a big Sunday breakfast with leftover grilled vegetables from the night before. We tend to make them vegetarian and always with what's in season. We have a beautiful garden so sometimes with just keep it simple with a bunch of fresh chopped herbs, sometimes we add roasted butternut squash and Brussels Sprouts for fall or winter. It is also a great way to get picky eaters to eat their vegetables.
Our kids even make their own and get creative by adding hot sauce, roasted peppers and chopped avocado for a Mexican version. We have made a pizza one with chopped cherry tomatoes, mozzarella cheese, arugula and a Tablespoon of homemade pesto. You can really add whatever ingredient you have on hand.
They are delicious right out of the oven, served with delicious multigrain bread and a simple arugula salad. If we happen to have leftovers, which rarely happens. My husband will make a frittata sandwich. Two pieces of bread, good salted Irish butter or a layer of cheese and a drizzle of olive oil. It is a perfect lunch.
Get creative and have your own fun and whip up delicious goodness together. Get your kiddos involved and see who makes the most creative frittata. The only ingredient that makes it taste so much better is local farm raised fresh eggs.