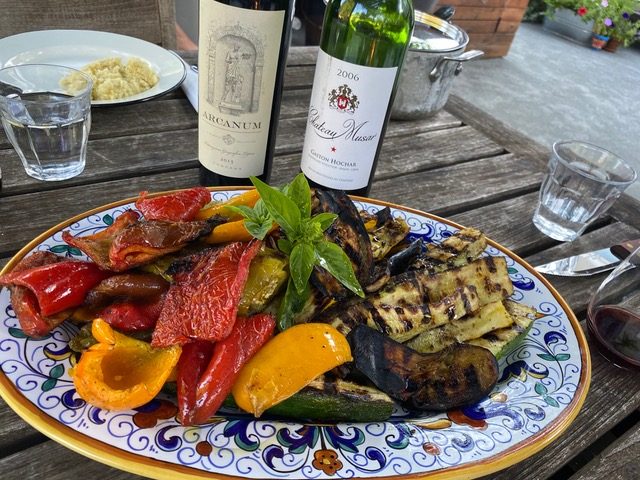 We spend most of the summer eating outside. We love to be in our backyard, listening to music, playing badminton and using the pizza oven as well as the grill. Both work fabulously when it comes to vegetables. My kids are pretty good about eating all vegetables, but when we firs them in the pizza oven or grill them they gobble them up. The heat brings out the natural sweetness in all vegetables. Some of our favorite vegetables to grill are:
Variety of peppers from padrones to bell peppers to sweet Italian red peppers. We grow all varieties in our garden so they go from being picked and then tossed in a little olive oil, garlic and salt.
Eggplant are absolutely fabulous grilled. I slice thin and then brush both sides with olive oil and season how you like. Eggplant goes with any flavor so come up with your favorite.
Summer squash is also incredible on the grill. I love to let it sit in a light marinade of lemon juice, smashed garlic and a bunch of fresh herbs picked out of my garden. Sometimes I add a little Aleppo pepper to give it a subtle kick.
Onions are another amazing vegetable to grill as they caramelize and become so sweet. We prefer the red onions but the yellow sweet onions work great as well. Just add olive oil, salt and pepper and you are good to go.
Fennel is a favorite ingredient period. I use it raw in salads, I roast it, bake it, grill it, and use it in soups. When it is grilled it becomes delicate and so much more flavorful.
Mushrooms are a favorite of mine but not my family. My husband will humor me and grill mushrooms if I buy them and they are heavenly on the grill. I toss them in olive oil and red pepper flakes and they are fantastic.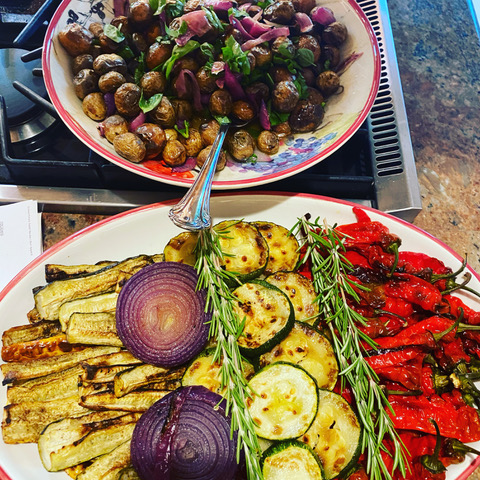 Don't stop at vegetables as fruit works great as well. Some favorite fruits on the grill are:
Pineapple- slice and brush lightly with olive oil or a neutral oil. Allow to get grill marks and then flip serve with a squeeze of lime juice and serve with cut up avocado and chopped cilantro or a scoop of ice cream and chopped fresh mint.
Stone Fruit works like magic. Peaches, apricots, plums and nectarines all caramelize wonderfully and with a scoop of vanilla ice cream and either a light caramel sauce or a tablespoon good bourbon and you got yourself an incredible dessert.
Citrus!!!! We grill it year round. You name the citrus and it has found its way on the grill. We use it with vegetables, chicken, fish, pork and more. Talk about natural sweetness and it is so good to eat skin and all. It is a healthy way to get your vitamin C!!!