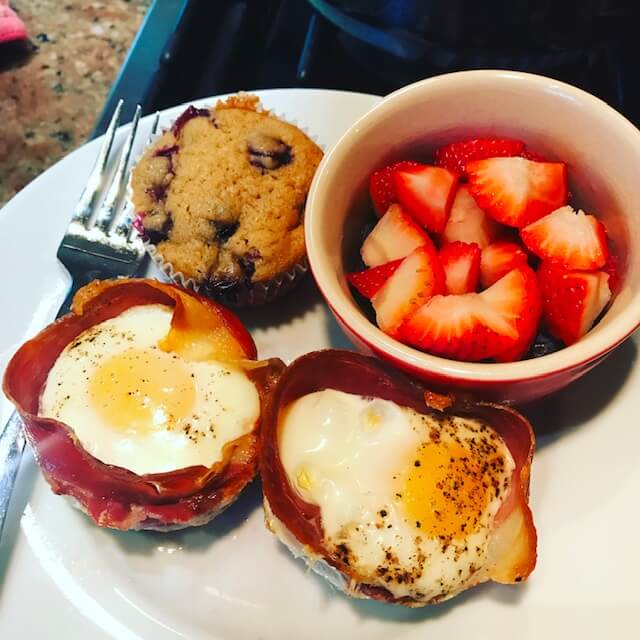 I take a lot of pride in preparing healthy, delicious breakfast's for my family each morning. I always serve breakfast with sliced bananas, strawberries and my daughter loves cantaloupe. A lot of these breakfast's are made ahead the reheating is a snap. My husband brings his breakfast to work so he is my grab and go, usually a breakfast burrito or egg muffin or these delicious eggs cooked in prosciutto. Don't get me wrong, I still buy cereal as my kids love it but mostly they enjoy a hot breakfast. I also make Scottish Oats or McCann's Irish Oatmeal. I feel if they have a good breakfast it set's them up to have a good day and be able to fuel their minds, bodies and souls.
Favorite Oatmeals: McCann's Steel Cut Irish Oatmeal or Bob's Red Mill Steel Cut Oats, long simmer with cinnamon, dried cranberries or and raisins, finished off with warm milk and a touch of brown sugar. I usually make a large batch and serve it in individual bowls. The extras get covered in plastic wrap and refrigerated. Reheat with warm milk and mix well.
Breakfast Burrito. Recipe is on the blog but these I make by the dozens with scrambled farm fresh eggs, spinach, potatoes, bell peppers, black beans, and bacon all wrapped in a flour tortilla and then foil and into the freezer. To rewarm, remove foil and microwave for 3-5 minutes depending on size.
Egg Muffin Cups: Scramble about 12-15 eggs and add chopped spinach and chopped bell peppers or whatever you like. Using a 12 cup muffin pan, grease well, add in a few veggies and a little cheddar cheese, pour egg mixture over and bake in a 350 degree oven for 15-18 minutes. Allow to sit in pan for 5 minutes. Remove from pan by inverting on a cutting board. Serve hot or allow to cool and place 2 in a zip lock freeze quart bag. Reheat in a toaster oven or microwave.
Egg Prosciutto Cups: 1 dozen eggs, 12-20 thins slices of prosciutto, cheese of choice, salt and pepper. Take a 12 cup muffin pan, grease well, Wrap the prosciutto in each dwelling and add some cheese if you like, or not. Crack the egg in each dwelling and bake in a preheated oven at 375 for 12-15 until egg is just set. Allow to cool in pan about 3 minutes and using a knife cut around the edges gently and scoop out of pan. Serve hot or allow to cool on a cutting board and freeze like above.
Waffles and pancakes are easy to make using a mix or from homemade. I always double the recipe when I make it so I can freeze the leftovers and serve them reheated for the kids. You can always use Eggs waffles. Reheated waffles are great to make waffle sandies: 1 or 2 waffles, fried or poached egg and a couple strips of bacon. Yum.
Cereal: My kids love it. Their favorites are: Cheerios, Honey Nut Cheerios, Honey Bunches of Oat, Puffins, and Purely Elizabeth Granola.