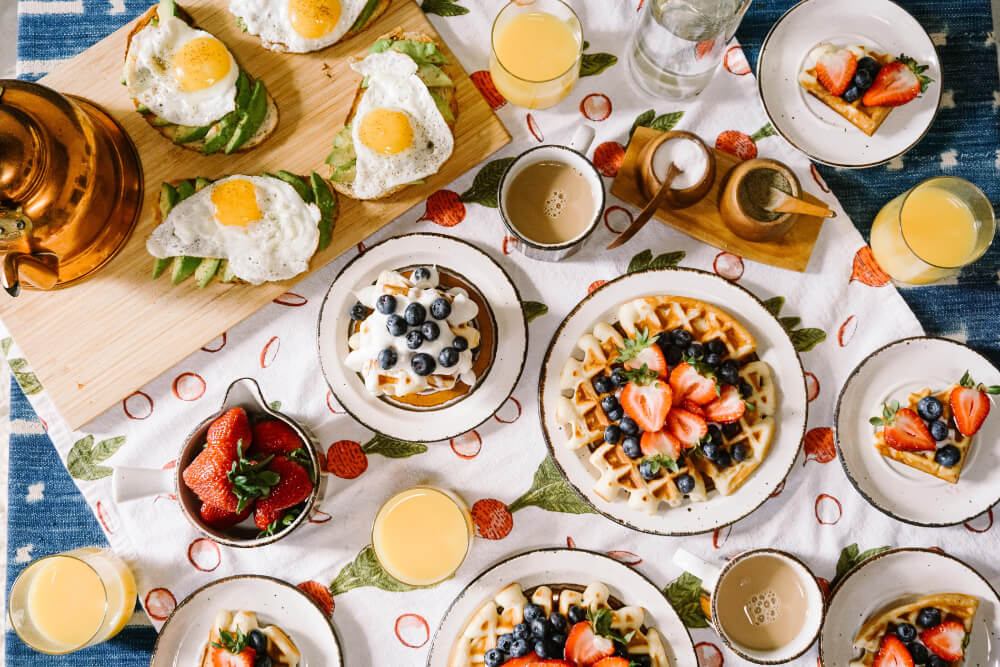 I love leisurely mornings! I love making breakfast for my family. I get up, go for a run with our amazing Boston Terrior, Barolo, and come home to cook. I start my day with a mug of green tea and soft music in the background. I make a fruit salad with pineapple, cantaloupe, berries, and mango. I prefer to use fruit that is in season. My children start making requests early in the week so I choose from their requests: homemade pancakes, overnight waffles, Dutch Baby, scrambled eggs, omelette, veggie scramble, avocado toast, scones, muffins or simple eggs and bacon. So many choices but I love preparing breakfast then sitting down with my family to talk about the day. I also love that they do the clean up so I can savor a cup of coffee and read an actual newspaper. Yes, I am one of those people who really enjoys reading a newspaper rather than reading on one of my many forms of technology.
We have friends who have chickens and to me one of my favorite things to eat is a fresh farm egg. The size and color of the yolk as well as the flavor is out of this world. I always aim for a simple breakfast of eggs and bacon. I will then make scones or muffins to go with the simpleness of the breakfast.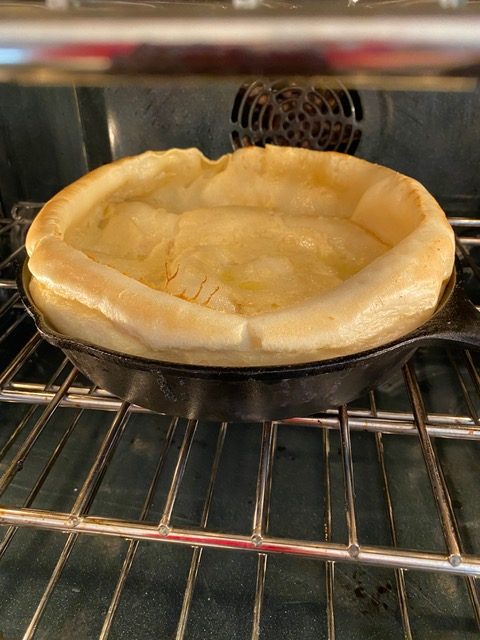 Dutch Baby: this can't be made in advance but you can have it already to go and it only takes maybe 8 minutes to make the batter and 12 minutes to cook. This is one of the most requested breakfasts I get.
Overnight waffles are the best. All the w work is done the night before and then in the AM all you have to do is plug in the waffle iron and heat the syrup.
egg cups, prosciutto egg cups, and breakfast burritos can all be made ahead and frozen, just reheat in the microwave or in a toaster oven.
Pancakes and waffles are easy to make and I like to make them from scratch. I always double the recipe so I can freeze some and the kids can reheat. They either use jam or syrup on them.
Vegetable scrambles are so delicious especially when using leftover grilled vegetables from the night before. We keep it simple: scrambled eggs with chopped fresh herbs and then the leftover grilled vegetables. As far as grilled vegetables: peppers, red onions, broccoli rabe, zucchini, eggplant, padrones, squash, potatoes, asparagus and then it always goos to throw in some greens, arugula, spinach, chard or kale. We serve with a light sprinkling of parmesan cheese, this is optional.
My son and I were in Edinburgh, Scotland (one of my favorite cities and countries) and we ate several times at Rock Salt Cafe. They had the BEST avocado toast I have ever had: thick piece of homemade multigrain bread, a thick smear of avocado, sprinkled with feta cheese and a poached egg. It is finished off with a drizzle of chili oil and fresh snipped herbs. As well as a sprinkling of pomegranates for color and for a pop of flavor. This dish I ate numerous times, the flavors were tantalizing and it was prepared perfectly with their amazing cappuccino.
French Toast is another easy breakfast. I mix it the night before and then make it in the morning. It is so easy I don';t even use a recipe: milk or/and heavy cream, eggs, cinnamon, and whisk well. Dredge sliced brioche bread in the mixture and add to a hot pan with melted butter. Heat a few minutes and then flip. Serve hot with powdered sugar or syrup. Also great to use day old sour dough for a different texture but equally good.
Muffins and scones are never purchased. I always make from scratch and I have quite an arsenal of recipes for both. You name the flavor or kind and I can easily whip it up. Nothing tastes better than a fresh made, warm muffin or scone.
It is always important for breakfast to have good coffee (Nespresso) or a good drip coffee. Plenty of selections of good jams/curds/Nutella, hot sauces (I am a big fan), maple syrup and we are huge fans and drinkers of San Pellegrino.