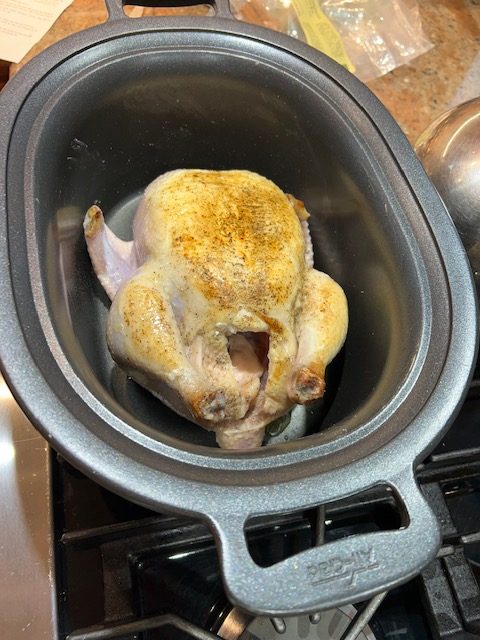 My Mother in Law gave me a slow cooker when my son was born and I was so hurt. I always thought slow cookers were for people who didn't really cook, BUT I was so wrong. The slow cooker my mother in law bought me was a simple, basic one and once I started to enjoy using it for the time it saved me, I thought it was a genius contraption.
I decided to invest in a higher end model and have not looked back. I have an All Clad Slow Cooker. I love it because you can sear the meat or sauté onions/garlic in the insert which allows the flavors to stay with what you are cooking. As you can see from the picture above, I sear the chicken on all sided to get the flavor but to also add a good crust to the skin which ensures a better flavored dish.
I do have a couple slow cooker cookbooks and have fun with the recipes but out of all meats I find chicken thighs are the easiest. If you add chicken thighs and a jar of salsa and cook on low for 5 1/2-6 hours, you will have chicken tacos all ready and all you have to get are the tortillas and beans.
I do enjoy a pork shoulder in the slow cooker and allow it to cook for 6-8 hours on low. You can add any flavor profile so you can easily make pulled pork sandwiches or get creative and add salsa, beans and spices for a Mexican meal or add curry paste and coconut milk for an Asian meal. I have a great recipe for pork shoulder and a bunch of vegetables and allow it to cook down. I serve it on top of polenta for a delicious winter dinner.
I do love slow cooking in a Dutch Oven and allowing the flavors to really meld together but on busy school days with after school activities, I don't have the time so I leave those recipes to Sundays where I have the time to really cook something long and slow. But the slow cooker is great for busy families. There are so many different machines out there so you can find one that meets your style of cooking. The cookbooks I would recommend are:
The Complete Slow Cooker:From Appetizers to Desserts-400 Must Have Recipes While You Play
Quick Slow Cooking
The New Slow Cooker
Easy Slow Cooker
Slow Cooker:The Best Slow Cooker Cookbook by Diane Phillips
The Mediterranean Slow Cooker Cookbook cookbook
I have a few recipes on the blog and will be adding more since the weather is getting colder. I don't use the slow cooker when it is warm and I really only do savory dishes in my slow cooker.
Have fun and get creative. You can save a lot of time and headache if you have a good machine and it works for you. Happy Time Saving.